Welcome to join Sourcing Outlook 2020 | October 8th | Stockholm
2020 Expert Organizations
A warm welcome to 2020 Expert organizations! Professionals and companies that can help You solve challenges and leverage opportunities.
SAP Ariba is how companies connect to get business done, using our market-leading solutions for digital commerce and Ariba Network. We help buyers and suppliers from more than 3.6 million companies, discover new opportunities, collaborate on transactions, and grow their relationships. Now you can manage the entire purchasing process, while controlling spending, finding new sources of savings, and building a healthy supply chain. Explore all SAP Ariba solutions and become a part of this dynamic, digital marketplace, where millions of buyers and suppliers, operating in more than 190 countries, trade USD 2.3 trillion in goods and services each year.
Supplier Management: SAP Ariba provides the only end-to-end solution portfolio that lets you manage supplier information, lifecycle, performance, and risk all in one place
Strategic Sourcing: Discover qualified suppliers, speed up your sourcing cycles, and create the most competitive, best-value agreements for sustainable savings with all your sourcing needs.
Solutions for Direct Spend: Connect the people, partners, processes, and information needed to manage all design-to-deliver activities in a simple, smart, and open way.
Procurement: Ensure compliance and control while providing users a delightful buying experience, with innovative capabilities like guided buying and spot buy.
Financial Supply Chain: Transform your payables from liabilities into strategic assets to boost free cash flow, free up working capital, and deliver more bottom-line value.
About h&z Management Consulting
Transformation with head, heart, and hand – this is the mission of h&z. Founded in Munich in 1997, the h&z Group now has 500 employees, and with our Transformation Alliance network more than 800 consultants are available to our clients. Since 2017 we have an office in Stockholm and have conducted several projects for some of the largest companies in the Nordic region.
Although our consultancy services include technology, innovation, sales, and strategy, the core of h&z lies within procurement and supply chain. We have helped transform procurement organizations in >1000 projects for companies across the globe and assist our clients with everything from "fixing the basics" to developing their digitalization roadmaps, and beyond.
Our expertise in Transformation and Procurement earned us the award of "Hidden Champion" in 2018 from the leading German business magazine "Capital" – thereby beating the three largest strategy consultancy firms.
For more information check out our website at huz.de
About Allocation Network GmbH
With over 20 years of experience, Allocation is a privately-owned best-of-breed solution provider within strategic purchasing and supplier quality management.
Integrated Sourcing, Auctions, Collaboration and Supplier Management capabilities ensure the entire procurement process is managed throughout the life cycle, from requisition to end- of-life.
The software is developed, distributed and supported in Munich and delivered to our customers, e.g. BMW, Siemens, Stadtwerke München, MAGNA and VOITH, in either SaaS or on-premise models. An additional office is located in Atlanta, USA.
About Icertis
Icertis, the leading enterprise contract management platform in the cloud, solves the hardest contract management problems on the easiest to use platform. With Icertis, companies accelerate their business by increasing contract velocity, protect against risk by ensuring regulatory and policy compliance, and optimize their commercial relationships by maximizing revenue and reducing costs. The AI-infused Icertis Contract Management (ICM) platform is used by companies like Airbus, Cognizant, Daimler, Microsoft and Sanofi to manage 6.5 million contracts in 40+ languages across 90+ countries.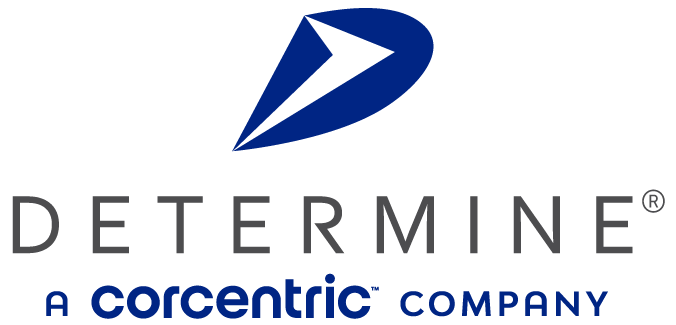 Determine, a Corcentric company is a leading global provider of SaaS Source-to-Pay and Enterprise Contract Lifecycle Management (ECLM) solutions. The Determine Cloud Platform provides procurement, legal and finance professionals analytics of their supplier, contract and financial performance. Our technologies empower customers to drive new revenue, identify savings, improve compliance and mitigate risk.
The Determine Cloud Platform seamlessly integrates with major ERP or third-party systems such as SAP, Oracle, Sage, QAD and Microsoft. Modular solutions can be configured to add more as needed to provide additional value beyond spend management. Our unified master database and business process approach empower users at every level to make more informed and smarter decisions.
About Bureau van Dijk – A Moody's Analytics company
We capture and treat private company information for better decision making and increased efficiency. With information on over 300 million companies we are the resource for company data. Our information on companies' financials, risk scores, PEPs and Sanctions, and probability of default indicators can help you manage your supplier risk and leverage your spending power.
Make better-informed decisions with a higher level of certainty – and save a huge amount of time. Procurement Catalyst is a risk assessment tool that enriches your supplier data with our market intelligence, clearly displayed for easy interpretation and a better view on your supplier portfolio. It can be completely aligned with your existing procurement processes and helps you validate your suppliers, business partners and to get a full picture using our extensive corporate ownership structure.
Access >>Supplier risk and procurement resources
Visit us at:
…
What does being an Expert Organization mean?
EBG | Network create informal yet to-the-point conferences focusing on real challenges and opportunities among large organizations. Informal mean we create round table sessions together with inspirational keynote presentations, focus session digging deeper into specific areas and themed focus sessions which are a combination of on stage presentations and round table discussions.
As an expert organization you get in contact with the right people in a setting created and focused on experience exchange. EBG | Network are not a conference company but have created successful networking sessions for 10 years.
Sourcing Outlook 2019 is the third version organized.
• Exhibition is always a part of being an expert organization
• Theme Discussions – round table sessions – are available to moderate. EBG help tailor a topic of value for both You and those attending – win-win
• Focus Session – allow a customer to share your story on stage parallel to up to two other sessions
• Keynote – allow a customer to share your story on stage in front of all in the morning
• One to one meetings – the entire day is about meeting and sharing – if you want to accelerate that EBG can help you schedule meetings during the conference day
• Online marketing – from the day you decide you want to join the conference EBG highlight your company services
Quotes from companies having joined us
"Worth to attend. Gave insight into hot topics and what different companies focus on. Good networking in a relaxed and informal atmosphere" #Achilles
"Well organized. Good spread of participants across industry." #Zycus Nordic Representative
""Good size of crowd, great with round tables and hosts" #Seal Software
…
EBG | Network take pride in bringing different competences together during Sourcing Outlook. Do You want to learn how to highlight Your competences as an Expert Organization? Contact me – Lars Bjärkerud today via lars(at)ebgnetwork.com or +46 73 350 0343